Maritimes Region Whale Sightings Database
The Whale Sightings Database (WSDB) was developed and implemented in 2002 by DFO Science in the Maritimes Region. The objectives of the WSDB are to provide a central repository for opportunistic sightings of cetaceans (whales, dolphins and porpoises) that might otherwise be lost and to improve accessibility to data from surveys and research activities conducted in the Bay of Fundy and on the Scotian Shelf in the Maritimes Region.
The majority of the data available in the database comes from the Scotian Shelf, Gulf of Maine, Bay of Fundy and Gulf of St. Lawrence, but some sightings and detections are from other areas along the east coast of Canada. Database records from a variety of sources are included: researchers (from government, universities and other non-government organizations), whale watchers, seabird observers, fish harvesters, at-sea observers, DFO fishery officers, marine mammal observers onboard oil and gas platforms, ferries, commercial vessels and many other sources.
Sightings data, including information on opportunistic sightings of whales, dolphins and porpoises, are useful for studying cetacean occurrence, seasonal movement patterns, distribution and important habitat. Such information can be used to predict the potential presence of whales within the area they are operating and is needed for implementing effective protection measures. Opportunistic sightings data from the WSDB have been used to inform a variety of scientific research projects and management initiatives.
Sperm whale fluke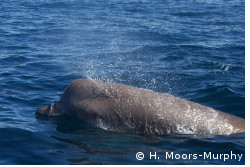 Surfacing northern bottlenose whale
Surfacing fin whale
Common dolphins
Humpback whale raising its tail fluke
Atlantic white-sided dolphin
How to submit sightings:
Submit your sightings by email to XMARWhaleSightings@dfo-mpo.gc.ca
Please send us the following key information with your observation:
Information about you: name and affiliation, note if observation was made from land or onboard vessel, please specify vessel name (will be kept confidential) and purpose of trip
Date, time (24h, specify UTC or local time zone) and location (latitude/longitude) of the sighting
Species name if known, or to the best of your ability
If possible, please also include this information as it would make your observation more valuable:
Certainty of species identification (1=unsure, 2=probable, 3=definite)
ID features (features used to identify the species; e.g., dorsal fin)
Number of individuals (min, max, and best guess)
Sighting distance (relative distance of animal from observation vessel or land, indicate if in feet or meters)
Animal's bearing relative to the vessel (compass bearing or clock position from the bow of the vessel)
Beaufort/sea state using the Beaufort scale (1-12)
Comments: relevant information including description of behavior of the animal(s), weather conditions, and vessel activity at time of sighting
Photos or videos of the animal (especially head, tail, dorsal fin and flippers)
Thank you to all contributors for taking the time to provide information on your marine animal sightings!
How to request sightings data: 
If you are interested in contributing to this project or requesting data, email the WSDB database manager at XMARWhaleSightings@dfo-mpo.gc.ca. While our database has many animal sightings, it does not contain information on search effort – when organizations or individuals look for marine wildlife. This means that the absence of sightings in the database for particular places and times does not mean that the species does not frequent those areas; it may mean that no one was there to count them. Opportunistic sightings rely on the observer being at the right place and at the right time to see an animal. The frequency of observations is often seasonal and declines during periods when there are less potential observers on the water. This type of sighting data also relies on the observer to provide the information to the database manager.